I'm afraid that I have to give myself mixed reviews for week 23. There were some awesome things to report this week. I weigh in at 155 (2 pounds down from the previous weight in) and I jogged an entire 5k although it was very slowly. Those things I am very excited about and proud of. I am now half way to my entire year's weight loss goal. Yay me! My dietary habits however were nothing to brag about. I ate very well at the beginning of the week and kept calorie counts dilligently. However, as the weekend approached things got hairyer and I didn't stay focused. We attended a cookout Thursday night where I ate a hamburger, a hotdog, and chips – uggg. Friday I went out with a girlfriend for Mexican food and ate nachos, and Saturday evening I ended a very stressful day with some greasy and spicy Chinese black peppered chicken and chunks of dark chocolate. After both Friday's and Saturday's deviations from the plan I felt very ill. The healthier body doesn't like being treated that way.  I ate very well early each day taking in the foods that have become such a habitual part of my better eating plan – yogurt, chia, oatmeal, almonds, grapefruit, V8, and lower fat dairy products. These foods leave me feeling energetic and well.  However, between stress and the symptoms of PMS, as evening approached and social times began I became weak and made choices I later regretted. I hope I can hang on well to the memory of just how icky and sick I felt by Saturday night. Indulging is not the fun I seemed to think it was.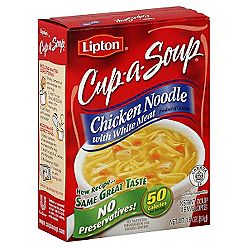 The food discoveries this week are telling of the struggle to behave. They aren't health food so much as alternatives to much poorer choices. Recently I was very tempted to turn myself upside down in a bowl of Ramen when watching others indulge. I refrained and instead found an alternative with similar flavor in a smaller indulgence. Lipton instant Chicken Noodle with White Meat Cup-A-Soup is 50 calories a serving and has a nice flavor and a few noodles. It is high in sodium and low in nutrition though so even this should be an occasional choice. Longing for the snack experience of nacho corn chips I opted instead for Spicy Nacho flavored Orvill Redenbacher Microwave Popcorn at just 75 calories per bag. The saturated fat content keeps this from being the healthy choice of air popped corn but it was an enjoyable snack experience that was rather filling and a great little kick of flavor to get me past the chips craving.
My exercise went well. I met all of my goals and exceeded the cardio. I put in 11.1 miles this week 5.1 of which I jogged. Yay me! Now I am excited about running at least this much each week and increasing my speed.
Stepping Stones will remain the same for week 24 with a personal emphasis on sticking to the calorie goals and improved nutrition. I will also be playing with ways to change-up the toning and ab exercises. I want to incorporate more weight and may be moving away from the 20 minute shred toward a customized program.
Stepping Stones for Success – Week 23
Goal:  "To weigh 135 lbs by 12/31/2012. (That is a loss of approximately 40 lb in 1 year).
Action Steps: I will begin limiting my calorie intake to 1400 calories a day, continuing to focus on good nutrition in my choices. I will perform at least 2 1/2 hours of cardio exercise.  I will also do two circuit training sessions with weights for toning and 2 flexibility/stretching sessions, each at least 20 minutes in length.  I will officially weigh in once this week, marking my progress on the Weight Tracker tool."
To-Do List:
1. Plan Weekly Menu (See Plan To Eat Fabulous Foods.)
2. Grocery Shop (See Stocking The "New Me" Pantry.)
3. Refill Snack Basket (See The Real Food Fight .)
4. Weigh In (See Weigh In Wednesday.)
5. Organize Outfits and Gear (See Get Your Rear In Gear.)
6. 2 1/2 Hours or more of Cardio Exercise
7.  2 or more  Toning/Circuit Training Sessions  (10 Ways to Increase Your Metabolism)
8. 2 or more Flexibility/Stretching Sessions.
9. Give myself 3 "Get Out Of Diet Guilt Free Cards".
10. Enjoy a Rest Day. (See Balance.)
11. Grade Last Weeks Efforts (See A for Effort.)
12. Assess Past Week's Efforts (See Assess for Success.)
13. Create next Stepping Stones Sheet
14. Hoola- Hooping For Fun And Fitness (See Hoola-Hooping Workout)
Date: ________
Daily Log
Morning Weight: ______           Evening Weight: ______
Omega 3? ___   Chia? ___  Raspberry Ketone? ___   Multi-Vitamin? ___ Vitamin D? ___ Oatmeal? ____
Servings Of Dairy:   ——–    Servings Of Grapefruit: ____   Servings Of Green Tea: _____   Servings of Water: ____
Affirmations? Yes / No            Aromatherapy? Yes / No
Bedtime:  ——————               Wake Up Time:  ———————
Did You Eat Frequently (Approximately Every Two Hours Until After Dinner)? __________
Exercise
Cardio?  Miles:  ____ Minutes: _____    Flexibility?  _________  Toning? _______
Foods Eaten
Breakfast:
Snack
Lunch
Snack
Snack
Dinner
Snack
Total Calories Consumed:_________